DIGITAL MARKETING FOCUSED ON BUSINESS RESULTS
- EVENT EXPIRED -
GENERAL INFORMATION:
Date:
23/06/2021
Duration:
9:30 - 11:00
Location:
ONLINE
Event type:
Webinar
AGENDA
Is there an online market for my company?
How to integrate the digital channel into traditional sales processes
DESCRIPTION
In this webinar we will analyse how the internet can be a complement to traditional business activities, by analysing real cases of companies in the B2B environment who have integrated digital business strategies into their traditional operations with very satisfactory outcomes in terms of results (increasing the number of qualified business opportunities and orders).
SPEAKERS
Lucía Celles
BDM
Six years of professional experience in marketing-sales environments for B2B sectors. Expert in commercial and business development processes in industrial environments, especially in sectors such as Oil&Gas and Energy. Master's degree in Marketing and Sales Management from the UPV/EH.
ORGANISE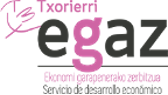 COLLABORATE