INTERNET AS A TOOL TO CAPTURE BUSINESS OPPORTUNITIES IN INDUSTRIAL ENVIRONMENTS
- EVENT EXPIRED -
GENERAL INFORMATION:
Date:
21/04/2021
Duration:
9:30 - 11:00
Location:
ONLINE
Event type:
Webinar
AGENDA
9:30 - 10:30
Webinar presentation (Estibaliz – AED)
Introduction to the core concepts of digital marketing
Main elements of a digital commercial strategy in industrial companies
Tasks and responsibilities of both the sales team and the external supplier
10:30 - 10:45
ONA case study: an example of how Ona has managed its digital commercial strategy in the words of Sergio Ruiz de Larrea, Ona's Sales Manager.
10:45 - 11:00
DESCRIPTION
In this webinar we will explain how to support export departments in attracting new business opportunities through the different digital tools available in the market. Sergio Ruiz de Larrea, Sales Manager at Ona, will be with us to talk about their experience managing their digital business strategy in collaboration with Weroi.
Nowadays, everyone agrees on the effectiveness of new technologies as a channel to capture business opportunities, but there is still a profound lack of knowledge on where to start and how to interconnect the different elements of a commercial strategy using new technologies on the online environment.
Many companies have a website, but what role does it play in commercial initiatives? How does it help us, or hurt us? Do companies have their clients well classified? Do they use CRM tools for this purpose? Do companies use LinkedIn as a sales tool? And most important of all, how can industrial companies use these and other tools? What are the responsibilities of the sales department in digital initiatives? Who should lead these initiatives within companies?
We ask ourselves these and many other questions daily. In this webinar, we will explain, from the very foundations, how the various digital tools available in the market can help export departments to capture new business opportunities in the digital environment.
OBJECTIVES
Understand the correct interaction among the different elements of a digital strategy aimed at capturing new business opportunities in industrial companies.
SPEAKERS
Lucía Celles
BDM
Six years of professional experience in marketing-sales environments for B2B sectors. Expert in commercial and business development processes in industrial environments, especially in sectors such as Oil&Gas and Energy. Master's degree in Marketing and Sales Management from the UPV/EH
Sergio Ruiz de Larrea
Sales Manager
ORGANISE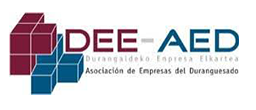 COLLABORATE