WEROI brings industrial digital marketing closer to UPV/EHU students
23/06/2020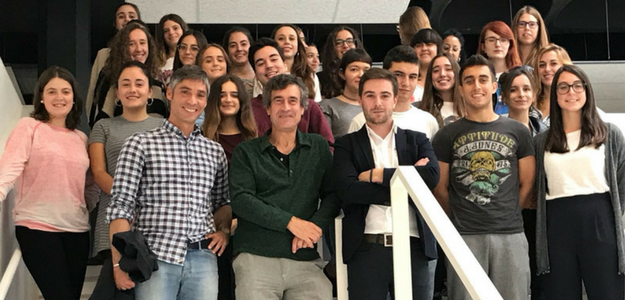 100 students and professors of the Advertising and Public Relations degree participate in the training course named 'Strategies and tools for digital transformation in the B2B industry' taught by Urko de la Torre, Operations Manager at WEROI
During the training course, participants could see first-hand the results obtained in three Basque industrial companies with which we work: Ingeteam, Stemtek, and Ascensores Beltran
'Are you sure you can sell such big and expensive machines on the Internet?'
'Are you sure you can sell such big and expensive machines on the Internet?'

'Of course I am'. 'What's the difference between a person who uses the Internet to find out the features of a laptop and one who uses it to find an electric car charger supplier?'

URKO DE LA TORRE
This has been one of the recurring questions asked in the training course taught by Urko de la Torre, Operations Manager at WEROI, over the past two months to the students and faculty members of the Department of Social and Communication Sciences, UPV/EHU, specifically, of the Advertising and Public Relations degree.
And his answer has always been clear and convincing: 'Of course I am'. 'What's the difference between a person who uses the Internet to find out the features of a laptop and one who uses it to find an electric car charger supplier?', he would reply.
The main goal of the WEROI training course has been just that one: to tell students that there is a world beyond marketing and communication oriented to the B2C industry, that is, companies that sell to the end consumer (Nike, Adidas, Coca-Cola, Apple, or Samsung).
It is true that the B2B industrial digital marketing (companies that sell to other companies) has become increasingly important in recent years. Besides, companies that ignore this kind of marketing are missing out on a great channel for attracting sales opportunities.
Some data to illustrate this point: by 2020, more than 25% of global B2B retail is expected to be conducted through digital channels, and online marketing investment is expected to reach $120 billion only in the US market by 2021.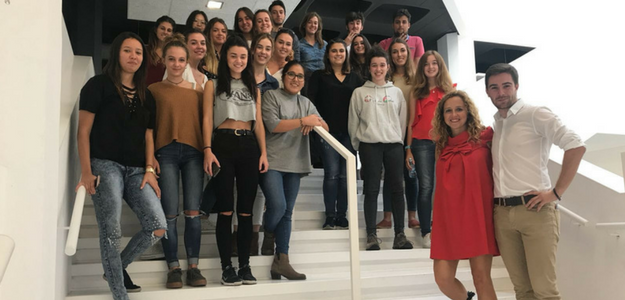 Companies presence
During the two training months, the students and faculty members at the UPV/EHU have been able to know the reality and daily life of three Basque companies from different sectors that work with WEROI, all of which are characterised by their B2B approach: Ingeteam, Stemtek Therapeutics and Ascensores Beltran.
Throughout the training course, the direct participation of the marketing and communication managers of these companies has allowed students to know first-hand the real application of what they have learned, as well as to make a quick but intense strategic and operational tour of the entire digital marketing plan implemented in each of them.
Digital marketing plans that allow them to obtain 'relevant results on the internet' as speakers stated in their speeches.
'Can an industrial company really sell on the Internet?'
This type of enquiries are popping into the heads of students that are just a step away from finishing their studies and knocking on the door of the job market for the first time. A 'knock-knock' for which, unfortunately, it seems difficult to get an answer at least in the short term. Among the under-25s, the unemployment rate in Spain is 40.5%, the second highest rate in the eurozone after Greece.
However, not all is bad news. Technology and digital marketing and communication are bringing about a proliferation of new professional profiles with a clear tendency towards hyper-specialisation.
Nowadays, the most in-demand professionals in marketing at companies are Head of Digital Marketing, Ecommerce Manager, Chief Digital Officer, SEO Manager, and Data Scientist, among others.
Therefore, digital marketing is a world full of opportunities for young people, as Urko has emphasised throughout the training.
And the best example of this is himself. Only two years after getting his degree, he became Operations Manager at WEROI, bearing much of the weight and responsibility of a growing company.
Yet, the best for him (and hopefully for WEROI) is not what he has already achieved, but what he still has to achieve.
During the training course, there were also questions related to the apparent need for every digital marketing project to have a 'shopping cart' on its website, in the style of Zara, in order to carry out successful and effective strategies.
'How do you sell a million-euro machine on the Internet? Do you pay by card?'
'Obviously not. Or at least not yet', Urko replied quickly.
These are logical enquiries: they are girls and boys whose references in marketing and communication have always been related to products for mass consumption. How do you explain to them that marketing doesn't start or end with Zara, Coca-Cola, or Nike?
This is one of the main reasons why this training course motivated us.
Urko, a former student of the Degree in Advertising and Public Relations at the UPV/EHU, has made an effort to explain to students that wit, lucidity, sharpness, and brilliance not only add up but are absolutely essential in digital marketing applied to the industrial sector.
WEROI knows this well. The regulated type of training in this field is scarce, which forces us to be, in many cases, self-taught. To investigate and explore, to try tools and methodologies, to make mistakes, to fall down, to get up, and to continue insisting until we find the best way to achieve the sales results that clients desire (and for what they pay us, of course).
WEROI is deeply grateful for the confidence that the UPV/EHU has given us to provide this training, bringing the daily life of the company and our clients closer to students that we hope will shine when getting into the job market. We'd like to be part, even a little part, of that shine.
If we have conveyed just a little bit of the enthusiasm with which we work, we are satisfied.
Until next year UPV/EHU!