Digital KPIs: Specific dashboards
- EVENT EXPIRED -
GENERAL INFORMATION:
Date:
07/07/2021
Duration:
9:30 - 11:00
Location:
ONLINE
Event type:
Webinar
AGENDA
Internal coordination: an essential prerequisite for a successful commercial-digital project
Visibility dashboard: KPIs that are interesting but not enough to measure ROI
Business dashboard: KPIs to be taken into account to measure ROI on any commercial-digital project
DESCRIPTION
KPIs such as having a lot of website visitors or followers on Linkedin are not enough to measure ROI on the digital investments made.
In this webinar, we will review the two perspectives to be analysed in any commercial-digital project (visibility KPIs and business KPIs) in order to measure the real effect of digital campaigns.
SPEAKERS
Lucía Celles
BDM
Six years of professional experience in marketing-sales environments for B2B sectors. Expert in commercial and business development processes in industrial environments, especially in sectors such as Oil&Gas and Energy. Master's degree in Marketing and Sales Management from the UPV/EH.
ORGANISE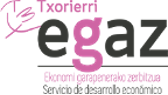 COLLABORATE